It looks like the untamable Miley Cyrus couldn't wait any longer to finally reappear – audibly – on the music scene.  The songstress took to Twitter to reveal to fans the title of her upcoming single, "We Can't Stop," and a photo hinting at a live performance at this Sunday's Billboard Music Awards.  THAT'S TWO DAYS AWAY, PEOPLE.
Below you can see Cyrus' official announcement to her "Smilers" on Twitter, who had #wecantstop trending in no time flat:
Cats outta the bag!  LETS TREND MY 1st SINGLE #wecantstop

— Miley Ray Cyrus (@MileyCyrus) May 17, 2013
MeOWWW.  Very soon after that, Cyrus had fans in even more of a frenzy when she tweeted this picture: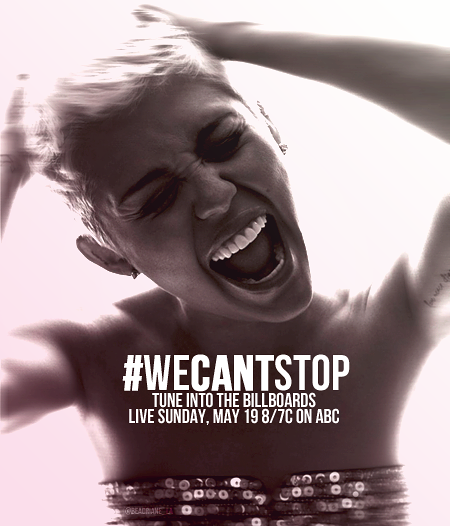 The new single is on the way, and it's coming FAST.  Maybe a nice reminder that the lady's got some pipes will keep everyone off her back about her engagement (or non-engagement), at least for a little while.
Who's ready for Miley's comeback?  Better question: who ISN'T ready?