GREAT ODIN'S RAVEN!  It looks like Kanye West will be showing off his acting chops in the highly anticipated Anchorman: The Legend Continues, set to come out in December.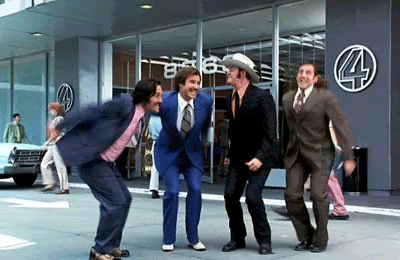 Details are stingy, but West was spotted in Atlanta while the cast and crew were filming a big fight scene.  Could it be battle of the news teams part two?  Will West pose as an anchor or simply play himself?  There are also photos floating around of Tina Fey and Amy Poehler filming a fight scene of their own for the film, adding to the long list of stars whose faces we'll see on screen.
West will be the musical guest for the season finale of Saturday Night Live on May 18 with host Ben Affleck, and SNL musical guests often find themselves involved in a skit or two throughout the show as well as on stage.  We will have to wait and see if the rapper and soon to be father will treat us with a preview of his comedic acting skills on TV.
Make sure to buy tickets to the midnight premiere of Anchorman: The Legend Continues so you can come see how good West looks.  It will certainly be interesting to see if Ron Burgundy or Kanye West has the bigger ego.
Until then…